Keshi: Yobo, Osaze, Echijele might be Dropped from World Cup Team
Super Eagles coach Stephen Keshi has
revealed that none of the players on the 30-
man has been guaranteed a place in his final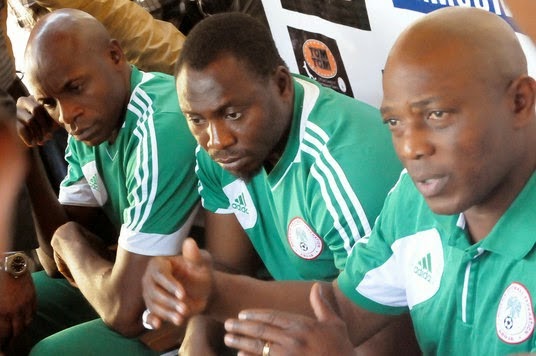 23-man squad for the 2014 FIFA World Cup
squad.
Defending his choice of players with
Superports.com Keshi noted that he is aware
that some of the players he invited for the
training camp are injured or may not be
seeing regular action for their respective
clubsides.
Keshi spoke about some players,like Elderson
Echiejile who isn't playing regularly for
Monaco,and Joseph Yobo who is still
recuperating from an injury,adding that they
are not yet assured of a place in Brazil.
"First things first; Echiejile only made the
provisional list,"Keshi said.
" There is no guarantee that he will make the
final list. The same applies for all the other 29
players called up. Having said that, I will not
pretend that I do not know he's not been
playing regularly at Monaco. It does not mean
he's lacking in ability."
" Even when I was still playing, there were
times when I did not play for my club for
non-sporting reasons. There are a lot of things
that happen that so many fans are not aware
of. "
"The good thing is that we still have a series of
friendly matches to play before the World
Cup begins next month and we hope it will get
the players in the right shape before then"
On Yobo,Keshi said: "You know, when he
wasn't playing, I was asked a lot of questions
by so many journalists about this subject. I
told them then that Yobo was still in my plans
but some people felt I was merely telling half
truths. Now it is clear that I was saying the
truth all along."
"He was injured but I have been informed
that he's bounced back. We are glad to have
him back.
Keshi also revealed that Yobo will remain the
captain,if he makes the final cut to Brazil.
"No, there is no decision to make as long as
Yobo makes the final list. If he does, he will
be captain. First, however, he will have to
prove himself and fight for a place just like all
the others called up. He's the most
experienced player called up.
Keshi equally explained that he has mended
fences with Osaze Odemwingie,but stressed
that he has not yet made the final list.
"We had a heart-to-heart chat about what we
want to achieve with the team in Brazil. He's
always been a hard worker. I don't know
what happened to him in the past but we will
leave that in the past."
"I will see how he conducts himself when the
camp open before I make my final decision. I
want to state here that Osaze has not yet made
the final list to Brazil. I have a 30-man list
and will drop anyone who does not conform
with the ideas that I have for the team."
"Again, no one has made the final list. Anyone
can still be dropped. I wish them all the best
of luck as they come to the camp and fight for
shirts."
|