Donald Duke discusses his Presidential Ambition on "On the Couch with Falz & Laila"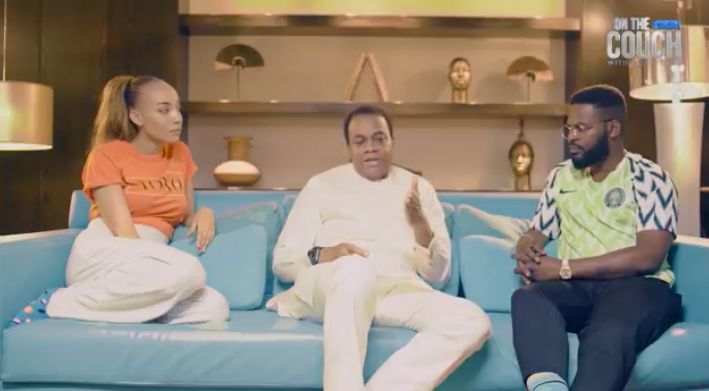 Former Cross River governor Donald Duke is the guest on Episode 3 of On the Couch with Falz and Laila.
This season, the hosts – FalzTheBahdGuy and Laila Johnson-Salami sits down with presidential aspirants. Previous episodes have featured Fela Durotoye and Olasubomi Okeowo.
Some of the points he made are:
Nigeria is an underperforming and underachieving nation, and the basis of our problem is poor leadership.
He wants to do for Nigeria what Nigeria has done for him – Nigeria has been good to him and he wants to provide the opportunities for people to achieve their potential.
He'll start with dealing with the "civil war" across the country (in the North east, and Herdsmen crisis); tackling the economic situation; get soldiers motivated (making sure they get adequate welfare) get Nigeria's credit system working.
On Education: Working on Nigeria's curriculum (it's totally outdated), training teachers, building more schools to accommodate the growing number of students. At the end of secondary school, graduands should have a requisite skill to enable them fend for themselves even if they do not attend university.
On Policing: He believes in State Policing. He thinks the minimum qualification to join the police should be HND. Get them insured. "His take home pay should actually take him home". He says he'll scrap SARS because he does not support a unit that carries weapons around without uniforms.
He thinks legislators' salaries are excessive and the executive must have the will to sit down the national assembly leadership to re-visit it.
On Electricity: The basic premise of government: "Anything that is essential, must be locally available". Nigeria wastes useful gas everyday. He says he'll provide enabling environment to turn that into power.
My greatest achievement is being a good father, and a role model to many.
He'll soon make an announcement on the party he's decide to run with.
He's not mis-appropriated public funds. he has corrupt acquaintances as that is part of politics but his loyalty is to Nigeria.
I don't believe in capital punishment.
President Buhari could have done better. If he's done well I wouldn't be contesting.
He'll not criminalise same sex relationships and ensure that gay persons have the protection of the law. However, if they want to exhibit their sexuality, that's an affront on the "current norms" of society and should be kept private.
He'll employ a gay person as a member of his cabinet if he/she can get the job done.